Glenys McQueen
(B.A., Lecoq School, M.Ed)  is a graduate of 

McGill University

 and the 

Jacques Lecoq School

 of Physical Theatre in Paris, France. She spent a year in New Zealand as a founding member of the group, Theatre Action, which represented New Zealand at the 

South Pacific Trade

 and Cultural Fair in Suva, Fiji.  She then spent 11 years in Mexico City, where she taught, acted and directed in professional theatre.  She established and ran UNAM's University Theatre Centre (C.U.T.) movement and non-verbal theatre program, and taught for CONASUPO's 

Brigadas de Teatro Campesino

. She was also a member of Las Sombras Blancas, which represented Mexico with their production of ARDE PINOCHO at the 

World Theatre Festival

 in Caracas, Venezuela.
In Canada, she taught at the 

University of Alberta

 for two years before moving to 

Brock University

, where she teaches acting and Drama in Education.. Glenys' research interests include experimental and international theatre practice; 

using music and movement

 as educational tools for cross-curricular integration; and developing open and creative teaching practices (adapted from Lecoq-based pedagogy).
Who is it for? 
 
Insight Energy! –is for women who work with others, teaching, facilitating, helping or leading and who want to do so with joy, openness and effectiveness. Using non-threatening, playful  theatre-based techniques, experienced workshop leader Glenys McQueen-Fuentes will guide you through exercises that will help you (re)discover and (re)juvenate your creative energy and authentic self.
 
What to expect?  
 
The sessions will help you re-connect with your:
authentic self

self confidence

submerged abilities and energy

sense of empathy

unique and personal creative sources

abilities, strengths, likes, and avoidances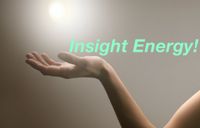 Improve your...
assertiveness

decision-making 

listening skills

observational skills

ability to collaborate

capacity to authentically self-assess
team and community building capacities
Reduce your...
stress

self-doubts

negative self-talk

sense of isolation

fear of impromptu situations

feelings of inadequacy 
Why a "New Twist"?
inside out, not outside in: it releases important things you've forgotten you know, rather than pushing in new info
hands-on, active, and collective discoveries, rather than lecture-learning
adapted from fun, no-risk, freeing, Lecoq-based theatre training techniques 
About the sessions...
This is a process that requires: 
groups of 8-16 women

participants create a safe, open and generous community of explorers

a series of 6 or 8 (both available) interactive, 2-hour sessions for  (re)discovery & (re)connecting
What you need...
come prepared to surprise, to listen, to de-stress, to enjoy the unknown

apparel:  comfortable, plain clothing (no prints or logos, etc., loose pants, t-shirt, casual footwear, no large jewellery or other identifying apparel)

material for writing [iphone, ipad, pen & paper, etc.]
Where?  How?
sign up for a predetermined 6 session course/workshops, or...

get a group of friends, colleagues or peers together

and pick the format:  6-8 sessions can be weekly, 2x per week, or done as shorter "intensives" (contact glenysmcqueen@yahoo.ca)